Diversity Leadership Development Program
Diversity matters. Especially in your next group of Directors, Senior Directors, and Vice Presidents. To develop your top talent, you'll need a program that showcases their skills across your entire business. Our one-year rotational development program does that, and more.
The Diversity Leadership Development Program (DLDP) creates:
Visibility for your top talent
To raise the visibility of your top talent and help them develop new leadership skills, each participant designs and implements a strategic project that improves employee engagement, diversity, workforce development, or your brand and reputation.
Greater engagement with your diversity groups
Each project mobilizes your Diversity, Employee Resource, and Affinity Groups and engages them as role models in schools with under-served communities.
Unique employer brand and reputational benefits
By building strong relationships with under-served schools and students, you enhance your reputation as a company that gives back and is a great place to work.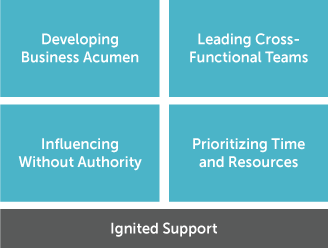 Ignited's Diversity Leadership Development Program uses real business projects to develop your top talent. It integrates seamlessly with your existing leadership development, employee engagement, and diversity programs. Download the one-page program overview to learn more.
Get
Started
Set up a 30-minute call with our team to learn more
Coach your career
Role Models
Identify and train your company and career ambassadors
View our Theory of
Change
Learn more about how we support diversity, equity, and inclusion