Taking Innovation Back to School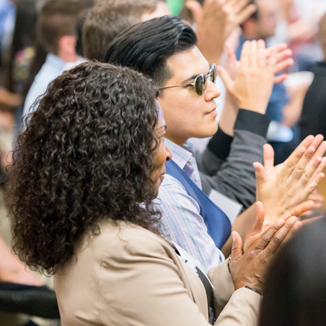 Bay Area teachers share STEM skills they gained working with industry leaders over the summer
SAN JOSE, California – August 28, 2018
Sixty-three Bay Area teachers are back in the classroom, better equipped to inspire and prepare thousands of students for careers in science, technology, engineering, and math thanks to summer fellowships they completed with top Silicon Valley companies through Ignited.
Through its Summer Fellowship Program, the Bay Area nonprofit puts teachers to work for eight weeks in the trenches at top companies and universities, including Amazon Lab126, Google, Genentech (a member of the Roche Group), Cisco, Lockheed Martin, Synopsys, and Oculus (Facebook).
Working side-by-side with industry employees to deliver on real business objectives, the 2018 teacher fellows have learned skills in AI (artificial intelligence), VR (virtual reality), and other advanced medical, environmental, scientific research, and sustainable energy technologies.  And even more importantly, they have gained insight into what it really means to work in cutting-edge industry roles, along with confidence in their ability to deliver a relevant and challenging STEM learning environment for their students.
"I had a great experience!" says Jenna Sinclair, a high school teacher from Sacred Heart Schools, Atherton. "My colleagues at Synopsys were so welcoming and helped me to feel at ease in an environment in which I felt like a fish out of water. In addition, this experience was validating in that it helped me to realize how efficient and professional we are in the teaching world. Finally, it helped me to appreciate the creative and social nature of the teaching profession. I was worried that I would feel burned out after working all summer, but I feel energized and excited to see my students and colleagues at school."
Nasa Cole, a teacher from East Avenue Middle School in Livermore, says her Ignited Fellowship at Lockheed Martin's space division "exposed me to the practical applications of the STEM-focused curriculum that we teach in our classrooms.
"Overall, my Ignited experience was relevant, empowering, and dynamic – definite attributes that I can share with my students and peers in the fall and beyond," she says.
The educators teach children from elementary school through college level. They take their valuable experiences back to their classrooms in the form of industry-relevant projects, creative experiments, and teaching practices that emphasize the 21st-century skills students will need to innovate around tomorrow's challenges and opportunities.
"True industry leadership starts in the classroom," says Ignited CEO Shari Liss. "And our partners are leading the way by shaping how STEM concepts and 21st century skills are taught in Bay Area schools."
About Ignited:
Ignited is a Silicon Valley nonprofit transforming STEM education to equip students with 21st-century skills. Ignited provides teachers with summer fellowships at top companies and universities so they can inspire and prepare students to become the next generation of innovators. Founded in 1985 as Industry Initiatives for Science and Math Education, the organization has awarded 3,704 fellowships to teachers from kindergarten through college level in 743 schools, impacting more than 3 million students.
Learn more at www.igniteducation.org.