Teachers are incredible influencers for students' career choices. Everyone has a teacher story. That's why the first step of your wider engagement plan should be our interactive, week-long agenda of speakers, virtual tours, and activities that helps teachers understand and explain your company and careers to their students.
Each Company Experience Week is customized and provides:
An overview of your company and industry
Teachers learn your company history, industry, products, and culture as a foundation to share with their students.
A focus on critical careers
Speakers from different teams talk about their roles and how key skills they learned in school have helped them in their careers.
The best way to reach the most students
Our curriculum coaches help teachers add your company and career content into the lessons and standards for their classrooms.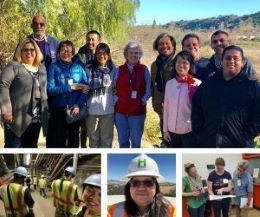 Our short summary video highlights the 2020 Water Week project we completed for BAYWORK and the Santa Clara Valley Water District. You can also read the program evaluation. To learn more, download our one-page program overview or set up a 30-minute call.
We also offer a Virtual Internship Program for companies that need to convert and expand their student summer program for virtual delivery.
Get
Started
Set up a 30-minute call with our team to map out ideas for your week
Teacher Summer
Experiences
Create the next step in your engagement plan with summer experiences
Explore Virtual
Internships
Students experience your company and careers directly from employees