Building a better workforce starts with teachers. If they understand your company and the skills you need, they'll help guide students to your priority career paths. Our easy-to-implement program creates that foundational awareness and understanding for teachers.
Your Company Experience Week will provide:
A deep dive into critical careers
Teachers learn about the company from your employees and get a week-long immersion in the skills and careers your company needs.
Key skills connected to learning standards
Curriculum coaches help teachers connect company and career content into the standards for their classrooms.
A better way to reach students
Lessons created during your week-long program reach students directly, taught by a teacher with fresh, first-hand experience.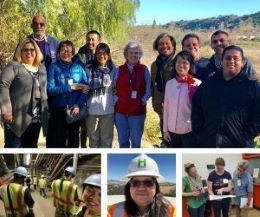 Watch a video of our 2020 Water Week project for BAYWORK and the Santa Clara Valley Water District or view the program evaluation. You can also download our one-page program overview.
Get
Started
Set up a 30-minute call with our team to learn more
Explore virtual
Internships
Students experience your company and careers directly from employees
Join powerful
Partnerships
Bringing together educators, companies, and partners to close skill gaps