According to EdBuild, "On average, high-poverty, nonwhite school districts in California have $3,974 less per student in funding than high-poverty white school districts." The StepUP Program was formed to close these critical gaps in resources, career opportunities, and diverse role models for middle and high school students from underrepresented populations – Girls, Black, Latinx, Indigenous, LGBTQ, and low-income communities.
Our innovative, end-to-end solution was developed and is delivered by three nonprofit leaders with decades of experience supporting teachers, students, and companies – the
Krause Center for Innovation
,
Science from Scientists
, and Ignited.

StepUP has three main elements:
Advanced Technology and Science Content
We create technology and science content important to companies, but not taught in middle and high schools. That includes: Artificial Intelligence, Data Science, Additive Manufacturing, Cryptocurrencies, Synthetic Biology, AR/VR, Autonomous Vehicles, and Cybersecurity
Teacher Professional Development
Teachers participate in an end-to-end process that prepares them to deliver this exciting new industry content
Diverse Role Models
We bring diverse groups of company subject-matter experts into classrooms as student role models and help teachers access company Employee Resource and Diversity Groups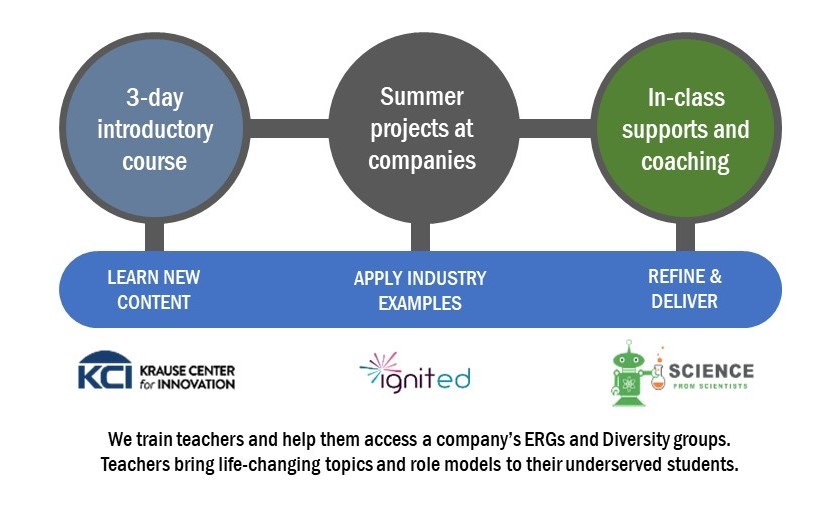 StepUP implementations are supported by multi-school learning communities and company and career awareness tools are built and shared to help students understand the variety of career opportunities available to them. To learn more, download our one-page program overview or set up a 30-minute call.
And, for companies ready to explore an enterprise-wide diversity development solution, we also offer a Diversity Leadership Development Program (DLDP) – a one-year rotational program built for your next Directors, Senior Directors, and VPs.
Get
Started
Set up a 30-minute call with our team to learn more about StepUP
View our StepUP
Projects
Supporting underserved students across multiple school districts
Develop your diverse
Leaders
A development program for your next generation of diverse leaders