The StepUP Career Awareness Platform
In 2021, Genentech provided seed funding to establish the StepUP Network. This nationwide group of partners provides equal access to advanced technology and science careers for high school, vocational, and community college students. Initial funding for the Career Awareness Platform was provided by the Department of the Navy and Electrify America and version 1.0 is currently being developed through 2023.
The platform contains:
Learning Communities
Teachers learn about careers through webinars, discussions, panels, and online and offline activities
Career Resources
Programs, content, training, and student experiences are collected all in one place
Career Ambassadors
Company employees serve as role models for diverse student groups underrepresented in science and technology careers-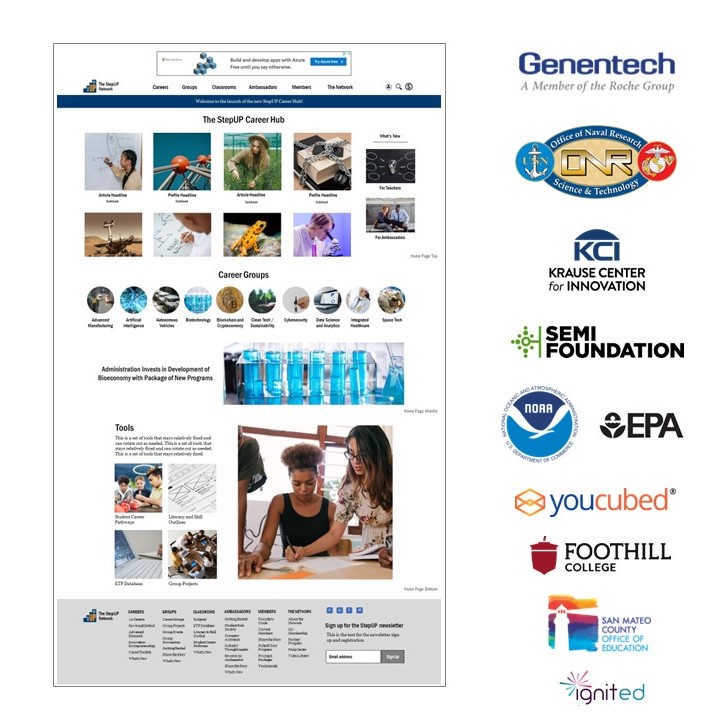 The platform helps companies share their early career programs and experiences with more students nationwide. It will be free for teachers and companies will pay a small membership fee. To learn more, click on the Get Started/Contact Us button below.
Get
Started
Set up a 30-minute call with our team
Company Experience
Weeks
Build awareness of critical careers
Collaborative Summer
Projects
Projects at your company for teachers